The history of the laboratory of artistic engravings VICHI begins in 1955 when Luigi Vichi, only 15 years old, went to work in the workshop of Master Studer in Margana Square. At Studer, where he learns how to refine techniques of engraving on medals and letterpress, he remains for eight years after which he decided to move to Master Corradini in Bocca di Leone Street. In this laboratory he perfected the techniques of engraving on objects of fine jewelry, specializing on engraving of coats of arms made of precious stones and metals. The early years are not only years of hard work. Passion for art and the desire to know it thoroughly, in fact, led him to attend the art school. In 1974, thanks to the experience achieved with the best teachers in Rome, he decided to open a studio in the historical Campo de 'Fiori that at that time was full of craftsmen, artists and antique dealers and where the atelier still resides.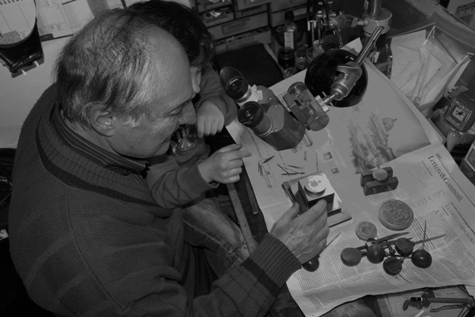 As often happens in trades like these, Luigi transmits his art to his son Luca. In fact, ten years later, the lab is enhanced by his cooperation. Educating himself under the guidance of his father, but also attending classes in drawing and sculpture at the Art Institute, he is formed both as an engraver and as a goldsmith, and he is very talented.
The engraving Vichi's laboratory was attended by most of the Roman aristocracy, which relies on the painstaking precision. Luigi and Luca create elegant chevalieres with family crests, heraldic stamps for coining medals and commemorative plaques, as well as the creation of unique and fine jewelry. They cater exclusive foreign clients and some of the most prestigious international jewelers like Bulgari and Cartier.