Engraving art requires passion, dedication and a deep vocational training. Burin and end mills used to handle diamond paste require an uncommon manual skills and a great craftmanship. These elements must include a big sensibility and a strong aesthetic sense in order to create a real and exlusive, precious piece of art.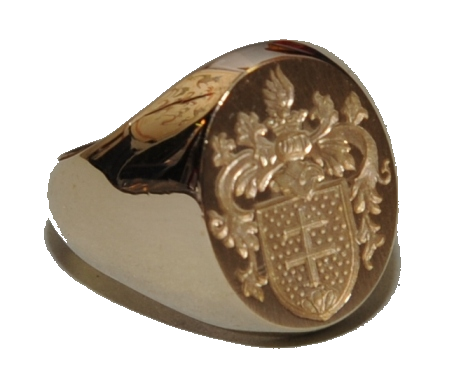 On the chevalier rings we engrave the heraldic coat of arms with the negative, and then impressed on wax. The origin of this type of rings dates back to the Bronze Age. From the IV dynasty, in the ancient Egypt, the use of the beetle as a seal appears. It was mounted so as to rotate on itself, presenting upwards the beetle symbol of the Sun King, and on the underside the face seal.
Their existence is also found in a particularly refined civilization as was the Cretan-Mycenaean and it is witnessed by the large amount of sealings, sealed fingerprints, found in the building of Crete and were probably used to control the amount of foodstuffs preserved in warehouses of the building. From that time the history of the chevalier rings went through all the ages to come to the present day, becoming one of the strengths and pride of Vichi, who boast in their production hundreds of engraved rings with coats of arms or monograms in which both the gold and the engraving, are always handmade, with a meticulous attention to the artefact that makes the jewel unique and exclusive.